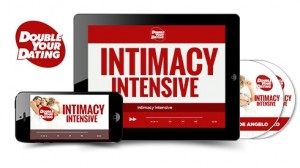 Intimacy Intensive is a relationship advice program for men. In this Intimacy Intensive review, I will go into detail about the program.
Intimacy Intensive Review.
The Intimacy Intensive program is by popular dating expert David DeAngelo. He often goes by "David D.". David has been giving dating advice since the early 2000's. His company is called "Double Your Dating." Recently, he took some time off to focus on marketing. He also got married. Now he's back giving dating and relationship advice.
David is notorious for having popular seminars. He invites the best dating and relationship experts. He records the seminars and creates programs using the footage. Intimacy Intensive is composed of such seminar footage.
So lets go into greater detail in this Intimacy Intensive review. I'll describe what's included.
What Do You Get With Intimacy Intensive?
Here's what you all get with David DeAngelo Intimacy Intensive.
You receive over 12 hours of video footage. This footage is from a three day live program David recently put on. There's a total of 17 "sessions". Each session includes different relationship experts as speakers. They also cover different topics. Some of the various speakers include Shawn & Shannon Royster and Mark Gafni. Of course, David DeAngelo and his wife Annie Lalla speak.
So there's a lot of video content. There's also an audio version. But what's it all about?
You should first watch the free introductory video. I recommend opening it in another window while you read this Intimacy Intensive review.
Now that the introductory video is playing in another tab. Let's continue with the Intimacy Intensive review.
Intimacy Intensive REVIEW.
David says that Intimacy Intensive is an "intensive workshop focused on the critical facets of a successful and lasting intimate relationship". He says "you will learn how to confront and work with fighting, sex, taboos, and honesty."
So let's cut the boring details. And start giving our honest opinions in this Intimacy Intensive review!
What I DISLIKE Intimacy Intensive!
– It's a bit pricey. (This is the lowest available price.)
– High on theory at times.
– Overall "lovey-dovey" relationship theme might disinterest some men.
What I LIKE About Intimacy Intensive!
– Great information for maintaining a good relationship.
– The guests are very interesting and add variety.
– Professional video presentation. Well put together.
Intimacy Intensive Review FINAL VERDICT.
Intimacy Intensive is a good program for it's target demographic. I thoroughly enjoy David DeAngelo's video programs. He's a great speaker and he gets exceptional guests.
Intimacy Intensive is good at teaching guys how to maintain relationships. Some of this might not sound very fascinating to most men. But it's really powerful stuff. It will teach you how to maintain a great sex life and prevent a costly separation.
You get a lot of content in this program. The price might seem high, but you'll probably think it's worth it. If not, David has a 30-day $-back guarantee.
You can watch his free ~35 minute preview video about it here.
You can purchase Intimacy Intensive at the lowest offered price here.
To wrap up this Intimacy Intensive review, this is a great program. David DeAngelo is truly one of the best dating/relationship experts in the world. He knows how to get good guests and his advice is solid.
No Intimacy Intensive review would be complete without a star rating. I give Intimacy Intensive 4 stars out of 5.
Go get your copy now if you like. Also, consider getting his "Mega Vault" later.