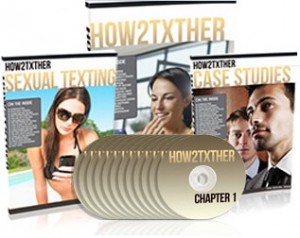 How2TxtHer is a new dating program for men geared toward texting. In this How2TxtHer review, I will go into detail about the program.
HOW2TXTHER Review
How2TxtHer is by dating expert Christian Hudson of the The Social Man dating advice company. Christian Hudson has been studying and giving mens dating advice for well over ten years. I've followed Christian for years. He tends to be more laid back, conservative and "dry" compared to other dating experts. Others tend to be more flashy and in your face. Does that matter? You'll find out in this How2TxtHer review. I'll keep this HOW2TXTHER review fair, honest, and objective like normal.
You can find the full details of this program here. In a nutshell, it's video footage from a seminar about how to text girls. There's Christian speaking along with fellow dating expert guests like Nick Sparks and Rob Judge. In addition to the streaming video, there's text transcripts and other added bonuses.
Here's a list of all that's included.
• The How To Text Girls Seminar.
• The HOW2TXTHER Handbook.
• Complete Confidence Hypnosis.
• The Breathtaking Hello.
• Endless Conversations.
In the HOW2TXTHER Seminar and handbook, it starts by telling you the first message that you should send a girl. Examples are given. They do a good job clearing up what makes a good first message and what you should avoid.
They then move on to telling you different texting techniques and tactics. This smorgasbord of advice lays down the mindset needed to be successful at texting girls.
Next, how to handle it when she doesn't respond. Do you text again after an hour? Do you wait for days? They give their answer in this section. I found this part really informative since so many guys don't know what to do when a girl gets "flaky" with them.
You can't text a girl if you don't have her phone number. They break down how to successfully ask a girl for her number.
The last parts are about calling a girl (does anyone actually CALL a girl anymore LOL?), setting up the first in-person meet-up or date, and how to text her into wanting to have sex with you later on. I see a lot of guys struggle with asking a girl out via text, so I really liked that part.
That's a brief How2TxtHer review overview. In the next part, I will give my true opinions about it.
HOW2TXTHER Review – CONCLUSION.
To wrap up this How2TxtHer review, I'm going to tell you some things I like about it. Then, some things I dislike about it. And finally, my ultimate conclusion.
What I like best about How2TxtHer is the price. It's one of the cheapest men's texting advice program available. The low price doesn't mean a lowly program in this case. It's got lots of content and examples.
Some of the bonuses are nothing special, but they do add to the value. I also enjoy the written transcripts of the seminar footage.
This leads me to what I dislike about How2TxtHer. I find programs that are video footage of seminars to be "lazy" and annoying. You're at the mercy of the most obnoxious person who was in the audience. It's like buying a Blu-Ray of a blockbuster movie and when you watch it at the comfort of your home, you find out it's a copy filmed at the back of a showing at a packed theater. I know having an audience provides "social proof" for the speakers and they can charge for tickets to the seminar.
Luckily, it's not as annoying and distracting in How2TxtHer as it is in other programs. There's also a written transcript so you can avoid the videos altogether if desired.
In conclusion, How2TxtHer is a solid program packed with a ton of great text messaging advice, all at a very low price.
In fact, if you buy it through this special link, you'll save 70% off the regular price. (Don't believe me? Here's the regular price, and here's the 70% off price.)
Christian Hudson and the other speakers know what they are talking about. He even provides a 365 money back guarantee.
Buying this is totally a no-brainer if you ask me.
After buying it, you'll get a 14 day free trial to "Superpowers". Superpowers is a monthly subscription program. Each month it costs $67. So make sure to cancel here if you don't think it's worth the money. They'll also try to "upsell" you with a bunch of other programs. You can ignore them or unsubscribe from the newsletters. That's ultimately why they can sell the How2TxtHer program for so damn cheap.
Buy it for 70% off by clicking here.
No How2TxtHer review would be complete without a star rating. I give the How2TxtHer 4 stars out of 5. It has strong content at a good value. Go get your copy now.