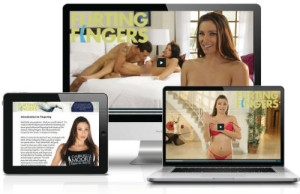 Gabrielle Moore Flirting Fingers is a new sex advice program for men.
As the name implies, it's by Gabrielle Moore. She's a popular men's sex advice author. The program claims to teach men how to use their hands and fingers to arouse women.
So is Gabrielle Moore Flirting Fingers a scam? Or is it worth buying? I'll give you my honest, unbiased advice in my Gabrielle Moore Flirting Fingers review below.
WARNING: This Gabrielle Moore Flirting Fingers review does include some graphic sex talk. So proceed with caution if you're easily offended.
Gabrielle Moore Flirting Fingers Review – Introduction.
Gabrielle Moore has got to be one of the most prolific authors around. If there's a sex fetish or niche, she's got a program about it. This program is about "fingering" women. I repeat, this is a sex advice program teaching men how to properly finger women. Just stop and think about that for a second. How fucking ridiculous does that sound! What's next "Gabrielle Moore's Gerbal-Up-The-Ass-With-A-Cardboard-Papertowel-Roll" program?
Gabrielle knew that fingering a girl in a way to hit her G-spot isn't worthy of a dedicated program. So she's added additional advice. You'll also learn erotic massaging, butt hole play, erotic zone touching, fisting, and more. This seems so bizarre. "Fingering" seems so "middle school" to me. But then this program turns to the darkside and shows you how to shove your fist into her hoohaw and stick your finger in her pooper. Classy!
Will Gabrielle Moore, with the help of her lit'l porn star helpers, make it all work? Keep reading this Gabrielle Moore Flirting Fingers review!
Gabrielle Moore Flirting Fingers Review – What's Inside.
Gabrielle Moore Flirting Fingers consists of a series of online videos. There's also a Flirting Fingers PDF ebook you can download. The videos include a series of demonstrations and seminars by 2 different females named "Celeste" and "Adriana" and one male named "Alex". I did my research (it was tough work) and found out that the two women are adult film stars. Their adult film names are "Celeste Star" and "Adriana Chechik". Who cares about the Alex dude, right.
Let it be known, these women were hired for their looks. And for their willingness to demonstrate sex positions (who are we kidding, they're porn stars for fuck sake). In my opinion, they are not charismatic speakers. My left nut is more charismatic. It's likely that they are reading off cue cards or a teleprompter.
The seminar footage consists of Celeste speaking about sex techniques. Meanwhile, Alex (boo) demonstrates the techniques on Adriana (yay). They are naked and it's all very graphic, so don't go watching it with your grandma. This program is very similar to Gabrielle Moore's other racy Naked U program. It's been a while since I did my Naked U review. Flirting Fingers might have been a module from it. Although Gabrielle does claim it's an entirely new product. At the very least, it appears to have been filmed around the same time as Naked U.
They talk about several sex techniques using your hands and fingers. These include how-to's on erotic massages, fingering her hot spots, and G-spot stimulation.
Is that too wimpy for you? No problem. Things get more extreme with techniques on "anal-spot" orgasm and fisting. Did you know that women have an "A-Spot"? Yep! Guess what the "A" stands for? Yep, your guess is right! As a bonus, you can use this same technique on your guy friends to give them prostrate exams. Did I go too far with that joke?
Gabrielle even has created her own patented technique called the "Rosebud Massage". I'm through with the bunghole jokes, you'll have to click here to find out what the Rosebud Massage is all about.
There's more stuff covered, click here to learn the details about all the rest.
Gabrielle Moore Flirting Fingers Review – Conclusion.
If you're finger game currently consists of "the shocker", then check out this program. It's reasonably priced and covers a good amount of material. At the very least, you'll get to see some porn stars go at it.
I did try some of it on my girl. She liked it. I refrained from the "ass play" stuff because my girl unfortunately isn't down with fingers around and in her chocolate starfish (or fortunately?)
If you are total n00b in bed, you might want a more "mainstream" sex advice program before diving into Flirting Fingers. Don't worry, Gabrielle Moore has like a dozen of them. Check out her Orgasmic Addiction if you want "R-Rated" and Naked U for "X-Rated". Otherwise, you can just buy Flirting Fingers and she's sure to promote to you the other programs later.
Watch Gabrielle's free introductory video presentation by clicking here.
So in conclusion, for a good time click here to get your copy of Gabrielle Moore Flirting Fingers at lowest available price.
If you are on the fence still, watch the free introductory video. See if it helps you make your decision.
No Gabrielle Moore Flirting Fingers review would be complete without a star rating. I give Gabrielle Moore Flirting Fingers 4 stars out of 5. Go get your copy now if you are interested.
Gabrielle Moore Flirting Fingers is NOT a scam. It IS worth the download.
So what do you think of my Gabrielle Moore Flirting Fingers review? Agree or disagree? Share your Gabrielle Moore Flirting Fingers review below.