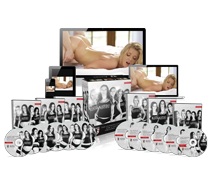 Naked U is a new sex advice program for men. It is by Gabrielle Moore. She's a popular men's sex advice author. The program claims to make any man better in the bedroom.
So is Naked U a scam? Or is it worth buying? I'll give you my honest, unbiased advice in my Naked U review below.
But before I get into my Naked U review, I want to warn you that some of what I write may offend some and is only intended for adults to read. If you are under 18 or easily offended by sexual language, please leave this page now.
Naked U Review.
Naked U consists of a series of online videos and PDF reports. There's also an option to receive the videos as physical DVDs. The videos include a series of demonstrations and seminars by the 18 different females. I assume the women are adult film starts. But, I'm not for sure.
There are 12 different "modules". Each module is it's own DVD or video and corresponding PDF. Every module covers a different sex topic. For example, one module gives anal sex advice. There's different girls teaching on different modules.
The seminar footage consists of a girl speaking about the technique with a g-string and a t-shirt. As each seminar progresses, the girl gradually strips. Eventually she's fully naked.
In addition to the seminar, there's real demonstrations of the sex techniques covered in the module. These demos are graphic and are NOT simulated. There's an actual man and woman naked having intercourse.
Watch Gabrielle's free introductory video presentation by clicking here.
I feel that there's a lot of content provided with Gabrielle Moore's Naked U. If you've never bought a Gabrielle Moore product yet, this program is definitely worth getting.
It is a bit on the expensive side. It's understandable considering the size of the program, the quality, and limited copies available. If you want to save a few bucks, pick the "Digital Download Only" option. Otherwise, pay the extra dollars for the "Premium Bundle". It comes with both the digital download and physical DVDs. There's also a added bonus only available with the premium bundle.
There's a lot of advanced sex tips given in the Naked U program. The girls are hot. They're not necessarily the best speakers. But they do get the point across and look good doing it.
If you're prepared to watch graphic adult content, this is up your alley. Most other sex advice programs use sex toys and girls in lingerie to "simulate" the techniques. This program is not afraid to show it all. This may offend some, but it makes the techniques easier to understand and perform yourself.
So in conclusion, do yourself a favor and click here to get your copy of Naked U at lowest available price.
If you are on the fence still, watch the free introductory video and see if helps you make your decision.
No Gabrielle Moore Naked U review would be complete without a star rating. I give Naked U 4 stars out of 5. Go get your copy now if you are interested.
Naked U is NOT a scam and IS worth the download.
So what do you think of my Naked U review? Agree or disagree? Share your Naked U review below.